Installing garage doors is nearly as hard as selecting them. Wouldn't it be better if you had a trusted company to help you with both? That's us. If you ever need garage door installation in Mesquite, Texas, simply call our company. We will love to be of assistance to you. Not only do we send you a tech to offer assistance but provide you with the best garage doors on the market and send you experienced techs to install them. And all that at very competitive rates too. If you are interested in getting started with this project, give us a call here at Garage Door Repair Mesquite TX.
Your Mesquite garage door installation will be easy with us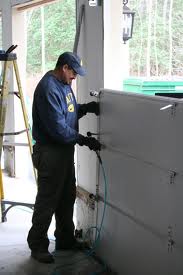 Do you fear that if you get wood garage doors in Mesquite, they might not withstand the humidity in Texas? Are you wondering whether to get an insulated garage door or not? You might have enough questions to fill pages. That's only natural. All the same, you need to choose garage doors that will remain intact over the years and will still serve you well after a very long time. We understand that you don't want to spend your hard-earned money on a garage door that won't last for long but you still need to find a product within your budget. Have no fear. There are many options on the market and among the best brands. Whether you want wood, glass, aluminum, or steel garage doors, we will help you find exactly what you are looking for.
Whichever garage doors you select, they are properly installed
Do you feel that all types of Craftsman garage doors are closer to your style? Would you prefer a plain flush design or like the style of short & long panel doors? Don't worry. A pro will provide you with all possible options among materials, features, sizes, styles, and designs. With our help, you will make a choice that you will treasure for years. The most important part is that whether you select a standard aluminum garage door size or an oversized composite door, it will be installed in a correct manner.
An incorrect garage door installation will create several problems. That's why you should turn to us. We don't only send you the techs on time but dispatch well-trained pros that count years in this business and have installed all types of garage doors. Whether you want to replace the existing door or this is going to be a brand new garage door installation, have no worries. The service is impeccably done.
Want to get an estimate or make an appointment to get started with your Mesquite garage door installation? Give us a call.